HG Ventures recently increased its investment in Puraffinity, participating in the London-based startup's $13.9M Series A funding round. Puraffinity is focused on combating the 'forever chemicals' found in water; here, Co-founder and CEO Henrik Hagemann shares his insights from participating in this year's United Nations Water Conference, and his ambitions for the future. 
Being invited to present at the United Nations 2023 Water Conference was another step on an incredible journey for Puraffinity, one that really started with the investment we received from HG Ventures and others in 2019.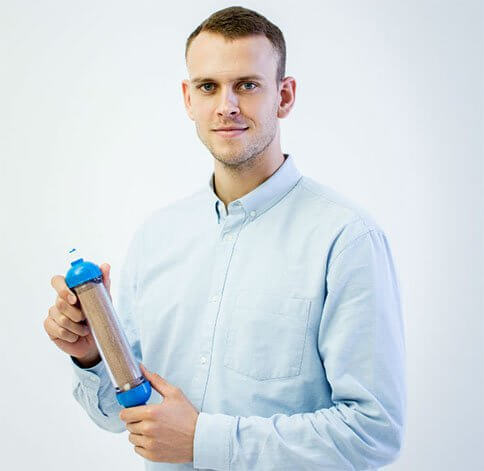 Back then, we had only just achieved promising lab results from using our technology to remove PFAS from water, in the belief that this was an area in which we could have an outsized impact. PFAS are widely used chemicals that find their way into water and soil, and have been shown to cause harm to humans and animals; they are colloquially known as 'forever chemicals' because they break down so slowly. We have developed novel technology that enables materials to trap PFAS and remove them from water.
HG Ventures was one of the investors that shared our vision, and we were especially excited to have access to the truly mind blowing expertise and resources they were able to bring to the table. And HG Ventures' partnership has gone way beyond simply writing a check; they seconded an expert from The Heritage Research Group to work with us for six months, as we developed our technology, something which few other investors could offer.
That level of support has made a huge difference. Fast forward to 2023, and I find myself at the UN Water Conference in New York.
A once-in-a-generation moment
We were invited to participate in the UN Water Conference through our relationship with Imagine H2O, an accelerator focused on early stage water startups, that recommended our involvement. The event was billed as the first water conference in a generation, and that's true; incredibly, while water has been addressed by the UN at various points, this was the first dedicated Water Conference since 1977.
In spite, or perhaps because of that, I detected a real sense of momentum at the event. Everyone participating seemed genuinely committed to tackling issues of water scarcity, sanitation and hygiene, and interested in the role that different technologies have to play in solving those challenges.
Access to clean water is an issue that affects every living organism on the planet; we literally cannot live without it. So I was heartened by the strength of feeling I encountered at the Conference. But we must do more, and we must do it faster. Every year is more water-scarce than the last. Put another way, 2023 is the least water-scarce year that any of us will ever experience.
Puraffinity and PFAS
Thanks to the investments we have received from HG Ventures and others, we are able to accelerate our ability to make a difference.
The presence of PFAS in our water has been known about for some time, but regulators and legislators are now taking action, which has driven the issue further up the agenda of corporations that have to address it or face litigation.
The EU has begun to regulate the use of PFAS and has published plans to restrict around 10,000 different PFAS species. And the US, which often trails the EU in such matters, is arguably leading the way in this area, with many States introducing their own regulations, and corporations anxious to avoid falling foul of them.
It's a rapidly evolving picture, but I am optimistic that 'forever chemicals' will not be forever, and proud that with the backing of HG Ventures and others, Puraffinity is making a difference.