When Indianapolis-based The Heritage Group launched its New Ventures Group in 2018, it did so in the belief that it could leverage its expertise in materials science to boost entrepreneurship, generating benefits both inside and outside the company.
The strategy seems to be working even better than expected for the privately held, family-owned company that has an ownership stake in more than 30 operating companies, including Calumet Specialty Products Partners LP, Heritage Environmental Services, Monument Chemical and others.
To date, the company's venture arm, HG Ventures, has invested nearly $200 million in a total of 30 companies, eight of which had been participants in The Heritage Group Accelerator.
And in 2021, HG Ventures became the first non-Europe-based investor chosen to partner with Innovate UK, a research and innovation funding initiative associated with the government of the United Kingdom.
"I would say the thing that surprised me the most was how strong the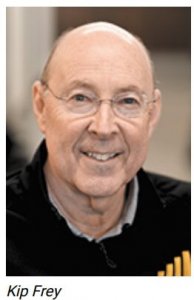 market for material-science venture investing turned out to be, and how well-positioned we have been to establish a brand in that area," said HG Ventures Managing Director Kip Frey. The Heritage Group recruited Frey from North Carolina to launch HG Ventures four years ago.
The venture group has a threefold strategy:
Invest in U.S. and international companies that focus on materials science (studying
the substances things are made of and designing more advanced
substances/materials).
Launch an annual startup accelerator.
Incubate employee ideas that show commercial promise.
The venture group's investments focus on areas such as energy, sustainable materials, water, infrastructure and the circular economy—the concept of reusing and recycling materials rather than disposing of them.
HG Ventures' investment portfolio includes companies like Zionsville-based 120Water, which offers water-sampling kits, software and services for water system management and compliance. It also includes Israel-based Valerann, which offers a trafficmanagement platform for road operators and traffic authorities.
The accelerator, whose fourth cohort of startups wrapped up last week, has brought a total of 37 startups to Indianapolis since 2018 for a 13-week, in-person accelerator at The Heritage Group's headquarters just east of Eagle Creek Park. The startups come from around the world; to date, five have chosen to move their headquarters here.
The Heritage Group also decided this year to run its accelerator on its own, after a three year contract with accelerator operator Techstars came to an end.
The third part of The Heritage Group's strategy, its in-house incubation process, has already resulted in one new company. That startup, Avenew Inc., is a road-management company that launched in February and is now part of The Heritage Group's portfolio.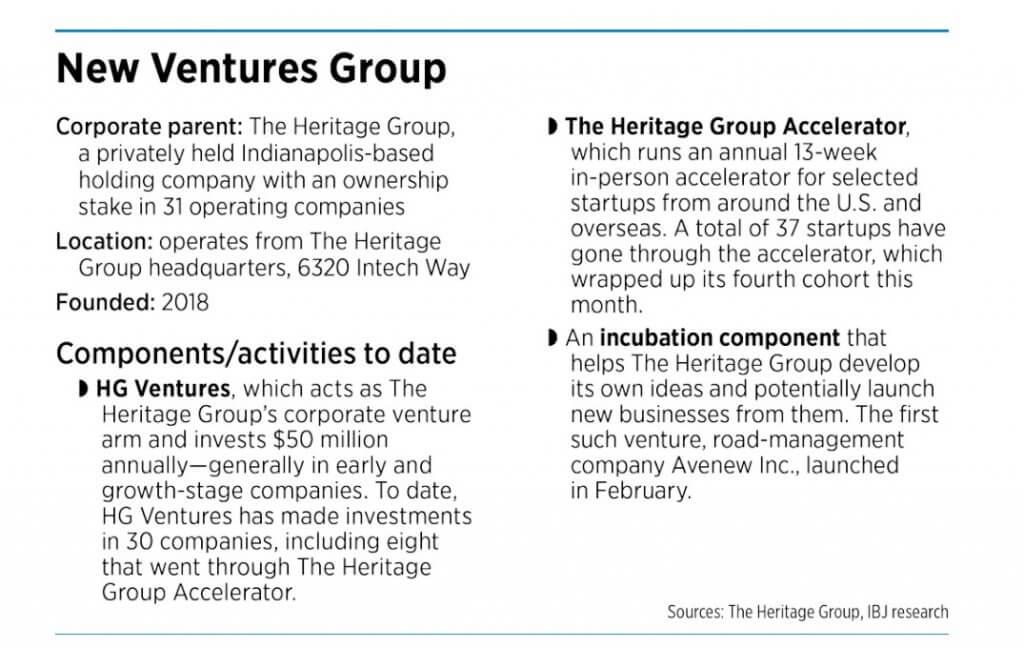 'Amazing resources'
For The Heritage Group, part of its secret sauce is the expertise and resources it can offer the companies it invests in.
HG Ventures and The Heritage Group Accelerator both operate out of The Center, a 113,000-square-foot building that also serves as The Heritage Group's corporate headquarters. The facility, in InTech Park, also is home to The Heritage Group's in-house research and development laboratory, which helps its operating companies develop and test their products.
And The Heritage Group's 6,000-person workforce includes chemists, engineers, scientists and others with specialized industry knowledge.
"We have 6,000 people. We've got amazing resources that we can bring to bear for entrepreneurs that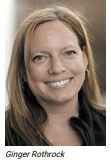 show that it's not lip service, adding value. It's truly tangible value that we can bring to these companies," said Ginger Rothrock, senior director of HG Ventures.
These types of resources can help HG Ventures in multiple ways, said
fellow venture investor David Kerr, managing director of Indianapolisbased Allos Ventures.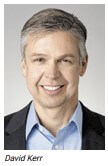 Allos and HG Ventures are co-investors in 120Water Inc., which is also a graduate of The Heritage Group Accelerator.
A venture firm that invests in the realm of materials science, clean technologies or hard tech—technology that includes both hardware and software—needs the know-how to find and evaluate potential investments.
One way to find this know-how is to work with consultants, universities or industry partners, Kerr said—but The Heritage Group has this expertise inhouse. "That's where I do think it really does give Heritage Group an advantage, having ready access to those types of people."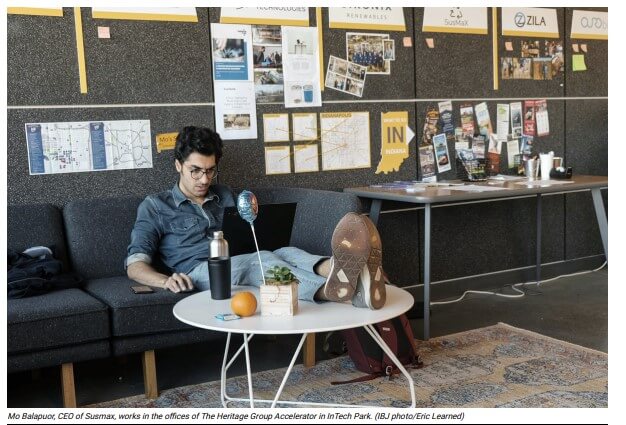 'A complete mind shift'
These are the types of resources that caught the eye of suburban Seattlebased entrepreneur Jason Puracal, co-founder and CEO of ZILA Works. The company was one of seven startups from the United States and Canada who came to Indianapolis for this year's accelerator.
ZILA, which launched in 2014, has developed a process for using industrial hemp to create bio-epoxy resin for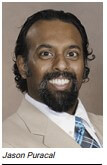 use in products from sporting equipment to floor sealants. The company hasn't yet started generating
revenue but has secured its first paid pilot test, which will take place this winter with Vermont-based Burton Snowboards, Puracal said.
He'd been through three previous accelerators in the U.S. and Canada before coming to Indianapolis for The Heritage Group Accelerator, he said, and this one is different.
"This is the first accelerator program that has had specific expertise that is relevant to our industry," he said. "It's been great to have the resources and the muscle of Heritage at our disposal."
Most of ZILA's partners before had been universities, Puracal said, so working with an industry-based accelerator has given him a whole new perspective.
"Academia runs at a certain pace, and Heritage has helped us shift our mental framework about, 'Oh, really we can go much faster in this other setting,'" he said. "It's
been a complete mind shift for us, and we're trying to scale up as quick as possible now."
One area ZILA had struggled with, Puracal said, was finding a manufacturer willing to make the company's product. He said his company had reached out to 40 companies, all of whom said ZILA was too small for them to do business with. But through the accelerator, Puracal is now in conversation with The Heritage Group's Monument Chemical as a potential manufacturer. "Monument has a different approach because of
the accelerator program."
During their 13 weeks in Indianapolis, Puracal said, he and his fellow founders were also introduced to representatives from Purdue University, the Indiana Economic Development Corp. and other startup accelerators, as well as Indiana-based venture investors. The accelerator participants also traveled to events in Pittsburgh; Columbus, Ohio; and Louisville.
Being in person for the 13-week program has also allowed Puracal to meet other founders who have become both friends and sources of professional support.
Becoming known
The Heritage Group "seriously considered" 75 applicants for this year's accelerator cohort, Frey said. Many more companies submitted applications, but the 75 represented the strongest.
New Ventures Group is also gaining traction on its venture investment side.
The Heritage Group's CEO, Amy Schumacher, said HG Ventures has seen an increase in both volume and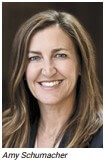 quality of investment opportunities that cross its threshold over the group's four years in existence.
Schumacher is a great-granddaughter of John E. Fehsenfeld, who launched the company in 1930 under the name Crystal Flash. She, along with board Chair Fred Fehsenfeld Jr., had the vision for what became New Ventures Group.
"What has surprised me is how quickly HG Ventures has established themselves as a leader in this space," Schumacher said.
Some of the investment opportunities are pitched by entrepreneurs, she said. Others come from fellow venture firms looking for co-investors for particular deals.
"They see the value we can bring to an opportunity," Schumacher said.
The third part of New Venture Group's strategy is to incubate business ideas that come from within.
As part of this effort, Schumacher said, The Heritage Group launched a year-long Concept to Commerce course, which focuses on how to commercialize an idea. Employees must be nominated to participate, and a second cohort is set to begin early next year.
"It was an overwhelming success," Schumacher said.
New Ventures Group has already successfully taken one idea from concept to commercialization with Avenew, which quietly launched in February.
The company, which helps local governments manage their road and bridge infrastructure, was born out of an idea from Heritage Group employee Micah Vincent. Vincent, who was director of Indiana's Office of Management and Budget before joining The Heritage Group, now serves as Avenew's chief operating officer.
The startup's CEO is Joe McGuinness, who formerly served as commissioner of the Indiana Department of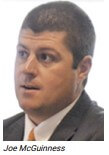 Transportation. Before that role, McGuinness served as mayor of Franklin.
McGuinness said leading a startup is altogether different from being a government executive. The Heritage Group has helped him with tasks as big as business strategy and as small as creating and ordering business cards.
"They have provided a lot of support," he said. "They allow you to sleep at night and not be looking around every corner."
It took about 18 months to develop Avenew's initial concept into a business, Rothrock said. Other ideas are now making their way through the incubation process, with anticipated business launches in one to three years, though Rothrock declined to reveal details.